Marathon
Annual Love Share 5K/10K Run & Walk Marathon (Learn more)
Love Share 5K/10K Run & Walk Marathon is a cross-ethnic, and all-ages annual event that encourages "Sharing & LOVE" to community members. This is a great opportunity for the whole family to experience a full day dedicated to the idea of fighting Childhood Obesity and to be aware of a healthy lifestyle. Love Share Marathon was held for 8 years. Last year, in 2019, we had 1,500 participants!   (Click here for Gallery)
In 2020, we are having 10th annual 5k/10k run and walk event on Saturday, September 19th! If you want to register for the Marathon, please contact us at contact@myhappyvillage.org
~July 15th : Early Bird $15
100+ Volunteers Needed for the Event!
Charity Golf Tournament
3LAB Charity Golf Tournament
Happy Village holds an annual golf tournament Sponsored by 3Lab cosmetics to raise funds to donate to 32nd Annual Love Share Festival for Developmental Disabilities. This year, we hold 7th Charity Golf Tournament on March 29th, 2018.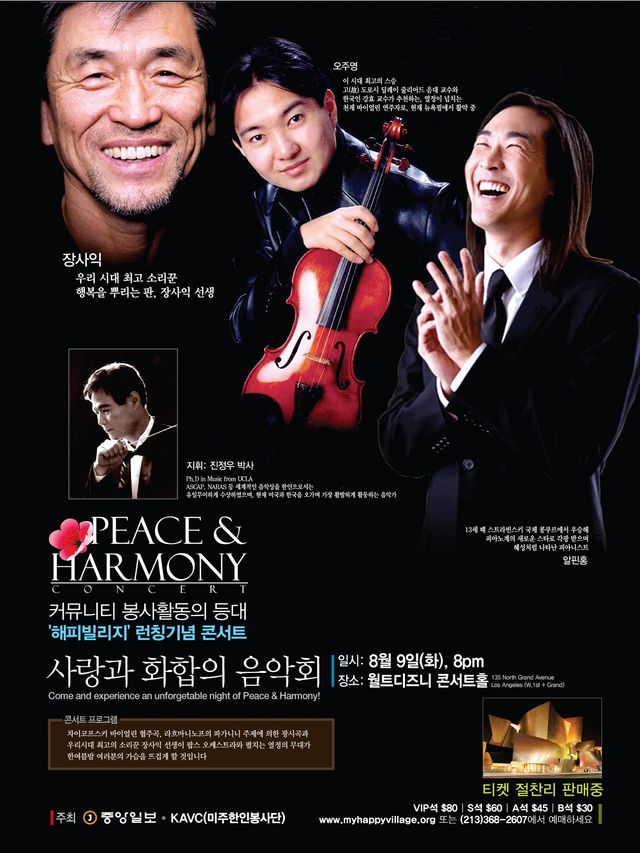 Concert
Peace & Harmony Concert (Learn more)
'Peace and Harmony Concert' was held on August 9th, 2011 with Korea's best soripan Sa Ik Jang, Violinist Joo Young Oh, Pianist Alpin Hong.
Theme 1: Unity of all ethnic groups
Theme 2: Unity of Korean-speaking immigrants and English speaking Korean-Americans
Theme 3: Unity of first and second generation Korean
Theme 4: Unity of "haves" and the "have-nots"